Salt Therapy in a Himalayan Salt Cave
A 100% natural therapy using Himalayan Salt. Respiratory, Skin, Relaxation and more.
About salt therapy and the benefits
For centuries, people have trusted the benefits of Himalayan salt therapy / (salt cave therapy) to strengthen their immune systems and relieve respiratory illnesses. Today, people of all ages can benefit from the natural healing properties found in salt through Himalayan salt therapy in a man made Himalayan salt cave to find relief for a variety of health issues like asthma, skin disorders and boost the immune system.Salt therapy is a safe, drug free therapy for all the family.
Himalayan salt has natural health benefits
Salt therapy is a drug free treatment that reproduces the natural micro climate of a salt cave by dispersing a dry salt aerosol in high concentrations in a halo chamber whose surfaces are covered with layers of salt. The dry salt aerosol in the room plays an important role in the relief of health problems and is a highly effective therapy for treating people with respiratory problems and skin conditions without any known side effects. See why our Himalayan salt therapy cave is unique.
Inside our salt therapy rooms
Within the salt room (or Himalayan salt cave) a microniser is used to pump a dry aerosol Himalayan salt into the air. As the Himalayan salt is inhaled, it travels through the sinuses and respiratory tract absorbing moisture, cleansing, clearing mucus, killing bacteria and reducing inflammation.
Himalayan salt has long been known for its anti-inflammatory and anti-bacterial properties as well as helping to loosen mucus build up and phlegm, help with asthma treatment and bronchial conditions. Studies have shown that people with chronic upper respiratory conditions, seasonal allergies, sinusitis, bronchitis and skin disorders can derive significant benefits from salt therapy. Actually, just about anyone can benefit from salt therapy.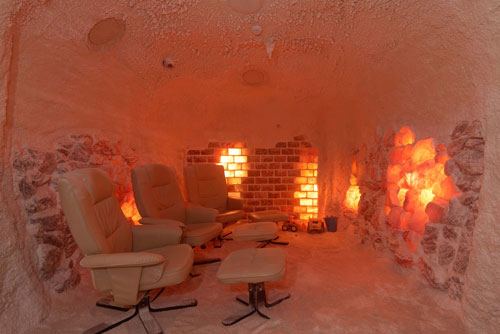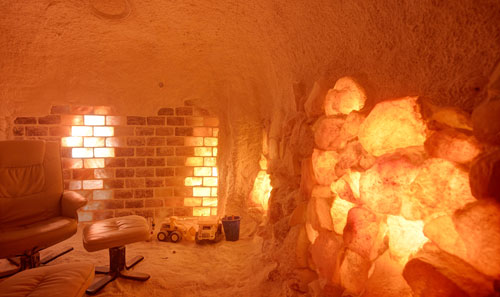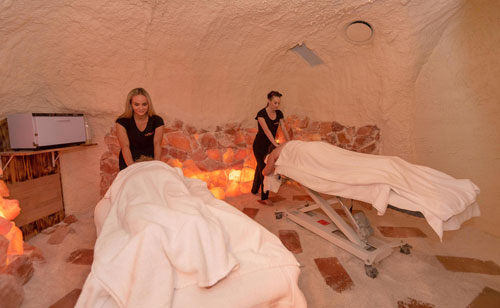 Salt Therapy Benefits
Learn about the incredible benefits of salt therapy.
PLEASE NOTE: Salt therapy is not advised during chemotherapy as the detoxification process of dry salt therapy might react with the chemo.